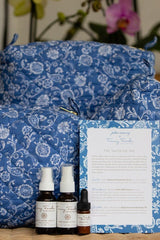 Julia Amory x Tammy Fender Toiletry Set - Soothing
The Julia Amory x Tammy Fender toiletry set collaboration is the perfect pairing of JA's beautiful prints and Tammy Fender's luxurious skincare products. A must for travel (and the perfect holiday gift), this set of three toiletry sets are paired with your favorite travel-sized Tammy Fender products, curated by your skincare needs. 
The Soothing Set is perfect after a day of sun, or whenever the skin craves calm and soothing care. Each of these specially curated formulas brings nurturing care to the skin, including Plant Milk Serum, which offers a wealth of the most powerfully soothing herbal remedies from Matricaria to Mountain Arnica. Dissolve heat and irritation as you gently guide the complexion into a cooler, drier season.
The Soothing Set has three Tammy Fender products: the Roman Chamomile Tonic, the Plant Milk Serum, and the Bulgarian Lavender Body Oil.  

The toiletry sets are a set of 3 and all lined in plastic. 

Dimensions:
LARGE:  9" high x 12" wide x 5" deep
MEDIUM: 7" high x 11" wide x 5" deep 
SMALL: 6" high X 10" wide X 4" deep
Be the first to share your JA moments with us