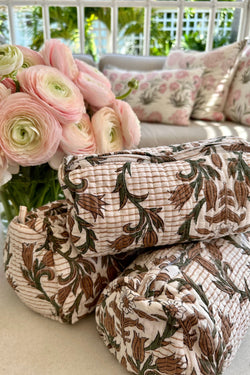 Coco Jardin Toiletry Set of 3
These hand block printed toiletry sets are a must! Throw them in your purse or beach bag for chic organization. They are sold as a set of 3 and all lined in plastic. 
Dimensions:
Large - 9" x 5" x 4.5"
Medium - 8" x 4.5" x 4.5"
Small - 8.5"x 2"x 2.5"

Please note that dye lots may vary batch to batch and imperfections may occur.