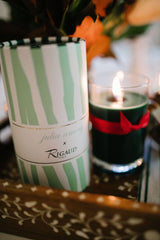 Julia Amory x Rigaud Candle - Cypres
Perhaps our most special collaboration to date we are thrilled to announce our venture with Rigaud Candles - scents that have shaped our formative years and scented our childhood memories.
Rigaud's iconic Cypres candle evokes memories of the Park Avenue Christmas tree lighting - cocktail parties of our youth hosted by our grandparents and parents; the silver bells at the Church of Heavenly Rest and Georgio the Donkey in the pageant; and black tie Christmas Eve's and crisp cold New York evenings. 
Introduced to the White House by Jacqueline Kennedy in 1960, this is a blend of lavender, the woody, crisp notes of pine needles, and the aroma of cedar wood. Cypres is the crackling of a fire, smoldering with pinecones; it is warmth of a drink at Bemelmans after a cold march up Madison; and it is the timeless elegance of Yuletide charm. We hope you love it as much as we do, and burn it in good health. 
Large Candle has approximately 90 hours of fragrance when burned 230 grams of soft wax, pure cotton wick, 3 inches in diameter, 5.5" Tall. 
Be the first to share your JA moments with us